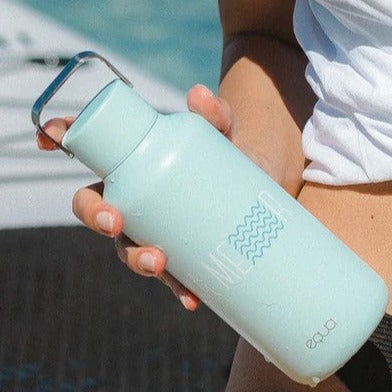 Equa
Lightweight La Mer water bottle
Dive into a world of refreshing hydration with our Lightweight La Mer Water Bottle. Inspired by the captivating allure of the sea, its lightweight design ensures effortless portability, allowing you to stay hydrated wherever your adventures take you.
Product description
The limited edition La Mer water bottle is lightweight, durable, and convenient to carry, making it the ideal choice to stay hydrated and enjoy summer days to the fullest.
Product Dimensions
• Volume: 600ml
• Weight: 0.181kg
• Diameter: 7cm
• Height:19cm
Care instructions
•Wash regularly with soap and warm water. For a deep cleaning use EQUA clean tablets or Clean my bottle. Not dishwasher safe.
• When your bottle is not in use, store it without the cap on to allow the inside to dry out.
Free Shipping on all orders above 100 OMR, for more information, click here
Free Returns within 15 working days.If you experience any issue with your order, please email on customercare@thebubblewrap.com and for more info click here.