Showing 14 of 14 products
Showing 14 of 14 products
1 - 14 of 14 results
On Sale
On Sale
On Sale
On Sale
On Sale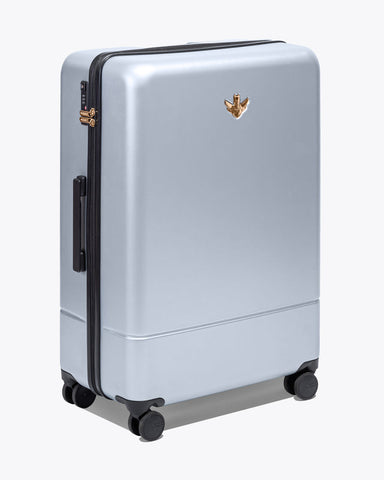 On Sale
On Sale
On Sale
On Sale
On Sale
All About Travel Bags And Accessories - Types And Factors To Check Before Buying
Imagine trying to navigate through a bustling airport or city streets with your belongings scattered and disorganized. Quite panicky, right? That's where the right travel bags and accessories make a difference and ensure that everything you need is neatly packed and easily accessible. With a dedicated compartment for clothes, shoes, toiletries and electronics, you can stay organized and find what you need without hustling. No more rummaging through your bag in a panic. But given so many options, how do you choose which travel bag or accessory will be best? That's where we will help you. Read on to know the different types of travel bags for men that exist and the factors to consider while choosing them.
Types Of Travel Bags And Their Features
Carry-on luggage: Carry-on luggage is the perfect travel trolley bag that you can take with you when you onboard the airplane. These bags are designed to sit within the size restrictions set by the airlines. They often come with wheels and telescopic handles making it easy to navigate throughout the airport. Carry-on luggage has multiple compartments to help you stay organized and may include features like TSA-approved locks for added security.
Checked luggage: When you have more stuff to bring on your trip, checked luggage is the way to go. These larger bags are meant to be checked in at the airline counter. They offer plenty of space to pack your clothes, shoes, and other travel essentials. Checked luggage often comes with sturdy wheels, a retractable handle and reinforced corners to which stand the handling during transportation.
Backpacks: Backpacks are popular among travelers who prefer a hands-free and comfortable option. Backpack bags for travel distribute the weight evenly on your shoulders, making them ideal for city exploration or outdoor adventures. Travel backpacks often have multiple compartments and pockets to keep your items organized. They may feature padded straps for added comfort; some even come with a detachable day pack for extra convenience.
Duffle bags: Duffle bags offer a more flexible and casual packing solution. These spacious cylindrical bags have a large main compartment to accommodate your belongings. They usually come with handles for easy hand or shoulder carrying. Some duffle bags also have wheels and telescopic handles, allowing you to roll them along when they get too heavy. They are great for weekend getaways or trips where you need a bit more room.
Men's sling bag: Men's sling bags have become very popular recently. They are short and have over-the-shoulder handles, which makes them easy to carry. Besides that, these bags are fashionable and match every outfit. Though the bags are not spacious, they are ideal for carrying only essential items. You can use them during your day trips. Men's sling bags are available in various sizes, colors, designs, and materials. They look like a smaller version of the traditional office bags.
Travel organizers and packing cubes: These handy accessories help you stay organized with your travel bags. Travel organizers like toiletry bags and document holders keep your essentials in one place, making them easily accessible when needed. Packing cubes are lightweight fabric containers that allow you to compartmentalize your clothing and accessories. They help maximize space, keep your items separate and make packing and unpacking a breeze.
Factors To Consider While Choosing Travel Bags & Accessories
When selecting a travel bag, there are several important factors to consider to ensure you choose the right one for your needs. The pointers that you need to check are:
Durability - Try to look for bags with durable materials that can survive the continuous wear of tear during the trip, especially the locks, handles and the chains. Even if there's a major cost difference, do not compromise on the quality.
Size and Capacity- Based on the length of your trips, your bag's size and capacity might differ. So, first decide how long your trip is going to be and what necessary items you are going to carry. Once you have a list ready, then decide whether you need a small backpack or a big luggage.
Mobility- From wheels to telescopic handles, the mobility of your luggage bag is up to you to choose according to your travel preferences. If you have overweight luggage then you need a sturdy handle to support the weight for seamless travel even on uneven roads.
Weight- There are many weights that the travel bags come in - thus, it is important to consider how much the bag itself weighs before burdening it with your luggage. Opt for lightweight options so that the bag doesn't become bulky quickly.
Price- Set a budget and consider the value for money when selecting a travel bag. Compare different brands and models to find one that offers your desired features at a price point that fits your budget.
Design- When you are buying travel bags for men, you are least concerned about their design and focus more on functionality. But don't do that when you can get travel bags in funky and trendy designs that match your taste. Be it duffle bags or backpacks, they are available in several designs and colors.
By considering these factors, you can choose a travel bag and travel bathroom accessories that meet your specific requirements, enhance your travel experience and provide reliable functionality and convenience throughout your journeys.
Conclusion
When you invest in quality travel bags and travel necessary items, it can impact your decision to quite some extent. From top-notch security to ultimate comfort and durability, choosing the right travel bag and accessories makes your journey stress-free. Besides that, you also need to choose the right type of bag so that your trips go smoothly. Choose your bag wisely depending on what kind of trip you are on frequently. Don't forget about the accessories also. They help you stay organized during trips. So, choose accessories that meet your needs. As you know much about travel bags and accessories, make the right choice before you embark on your next adventure!