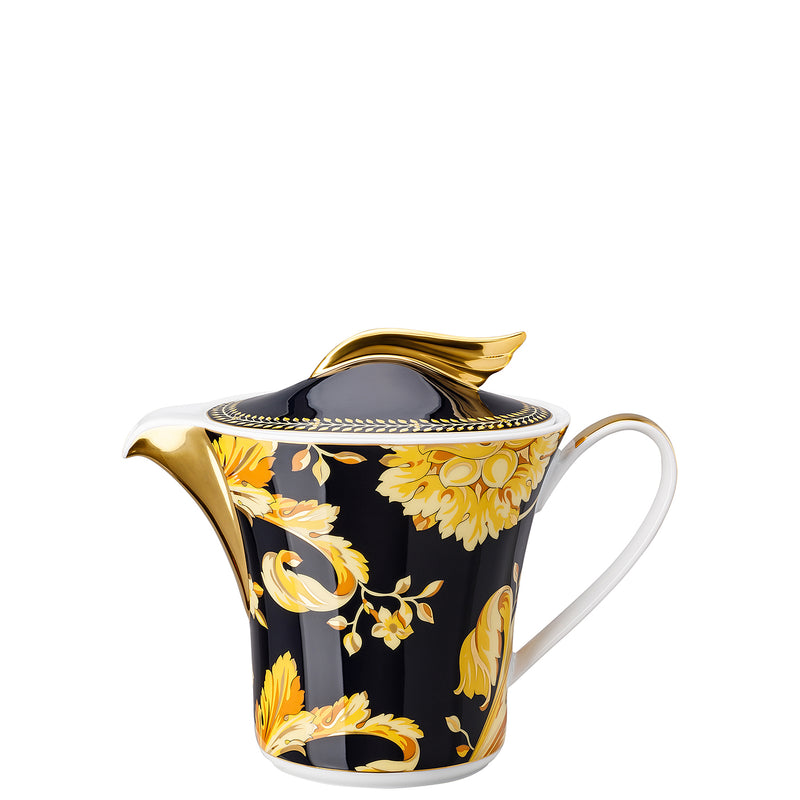 Versace
Vanity Teapot
-Meticulously crafted from the finest porcelain, this teapot embodies timeless elegance and contemporary allure.

-The Vanity Teapot is a statement piece that elevates any tea-drinking occasion, whether enjoyed alone or with company.

-Thoughtfully originated in Italy.

Product Description
• From the moment your gaze meets its exquisite form, you'll be captivated by the sheer beauty and attention to detail that defines the Vanity Teapot. The smooth, lustrous porcelain surface, meticulously finished to perfection, reflects light in a way that accentuates its every curve and contour. The sleek silhouette, adorned with intricate motifs inspired by Versace's iconic design language, evokes a sense of grandeur and refinement, making it an exquisite embodiment of luxury.
• Steeped in a tradition of excellence, this teapot is not just a functional vessel for brewing tea, but a work of art that evokes a sense of indulgence and sophistication. Every element, from the gracefully arched handle to the elegantly curved spout, is meticulously crafted with precision and expertise. The golden accents, meticulously hand-painted in the signature Versace style, add a touch of opulence and elevate the teapot to new heights of luxury.
Product Dimensions
Volume - 1.3L
Materials
Porcelain
Free Shipping on all orders above 100 OMR, for more information, click here
Free Returns within 15 working days.If you experience any issue with your order, please email on customercare@thebubblewrap.com and for more info click here.