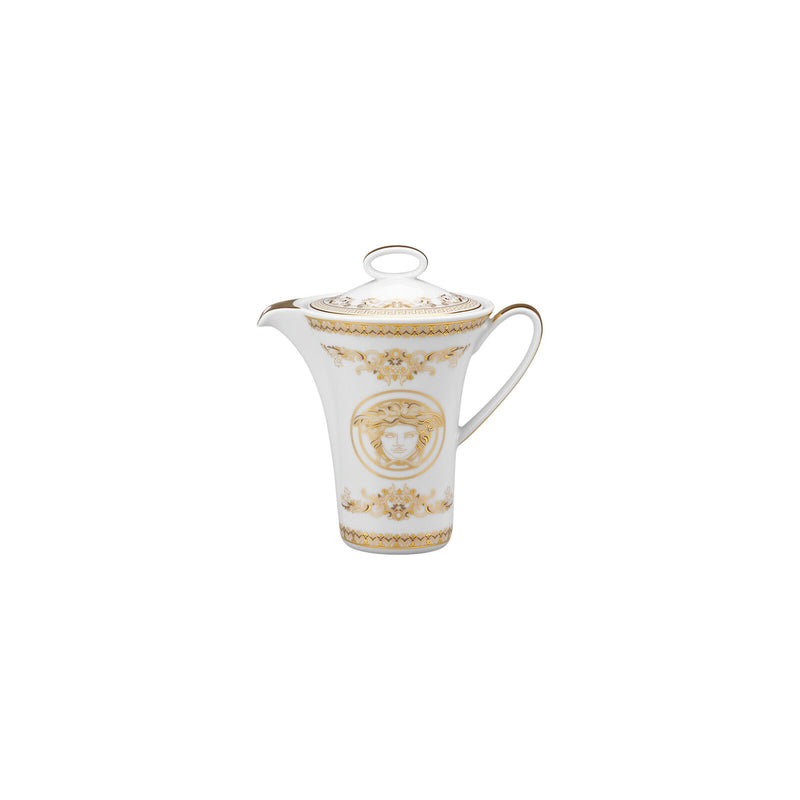 Versace
Medusa Gala Creamer
-Meticulously crafted with attention to detail, exuding sophistication and luxury.

-Elevates any table setting, whether for formal occasions or everyday enjoyment.

-Thoughtfully originated in Italy.

Product Description
• Indulge in the lavishness of the Medusa Gala Creamer, a truly captivating masterpiece that encapsulates the essence of Versace's renowned design aesthetic. From the moment you set your eyes on this exquisite creamer, you'll be entranced by its unparalleled beauty and craftsmanship. Every detail has been meticulously crafted to perfection, resulting in a work of art that exudes an aura of sophistication and luxury.
• Immerse yourself in the opulence of gold, elegantly interwoven with the intricate Versace patterns, as you pour your favorite cream into your morning coffee or afternoon tea. The combination of these two elements creates a harmonious symphony of style, adding an enchanting touch to your table setting. The delicate white porcelain body of the creamer serves as a canvas for the golden embellishments, showcasing the impeccable artistry that Versace is renowned for.
Product Dimensions
Volume - 0.22L
Materials
Porcelain
Free Shipping on all orders above 100 OMR, for more information, click here
Free Returns within 15 working days.If you experience any issue with your order, please email on customercare@thebubblewrap.com and for more info click here.