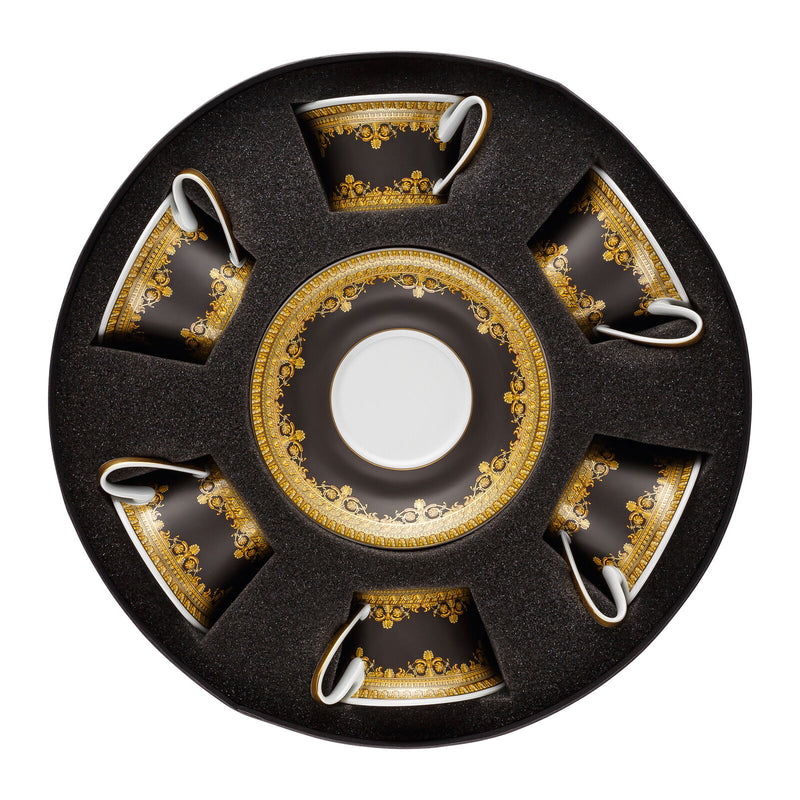 Versace
Baroque Nero Cups and Saucers - Set of 6
Immerse yourself in the grandeur of Versace with the Baroque Nero Cups & Saucers Set. This exquisite collection of 6 cups and saucers captures the essence of opulence and intricate design. Each piece reflects the brand's commitment to luxury and craftsmanship.
Product Description
• Indulge in the epitome of luxury and elegance with the Baroque Nero Cups and Saucers Set by Versace. Crafted from the finest porcelain, this exquisite teaware collection exudes a style that can only be described as opulent and glamorous. The striking combination of the deep, rich black of the Baroque Nero design and the lavish gold accents creates a visually stunning contrast that captures attention and adds a touch of sophistication to any table setting.
• The intricate detailing of the Baroque pattern further enhances its allure, reflecting the impeccable craftsmanship for which Versace is renowned. The cups are designed to provide a comfortable grip while savoring your favorite tea or coffee, while the accompanying saucers add a touch of refinement and practicality.
Product Dimensions
Height - 12.30cm
Width - 37.10cm
Length - 37.10cm
Diameter - 37.100cm
Materials
Porcelain
Free Shipping on all orders above 100 OMR, for more information, click here
Free Returns within 15 working days.If you experience any issue with your order, please email on customercare@thebubblewrap.com and for more info click here.