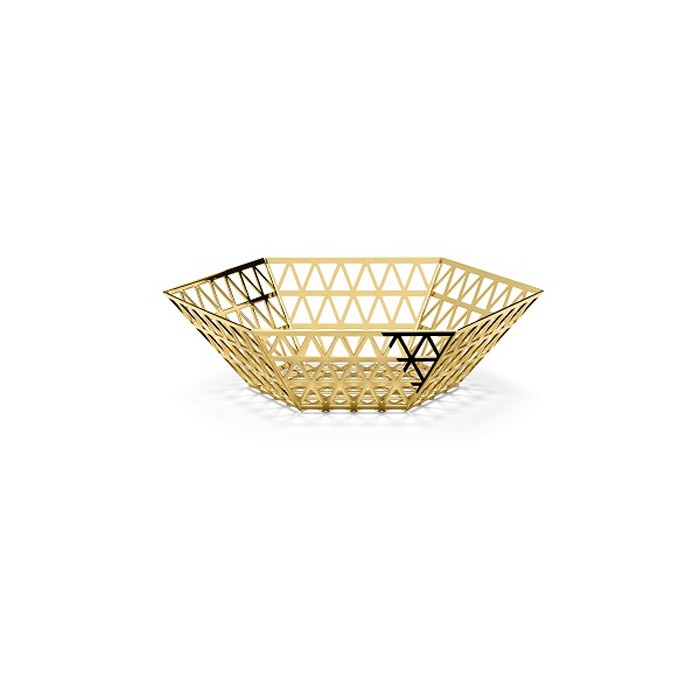 Ghidini 1961
Tip Top Center Bowl
Discover elegance with the Tip Top Center Bowl by BubbleWrap. A visually striking hexagonal structure in gold-plated stainless steel. Elevate your table setting with practical and sculptural design. Get yours today and save.
Product Description
• The Tip Top Center Bowl by Ghidini 1961 is a visually striking decorative piece that features a unique hexagonal structure created through a series of stretched triangles. When viewed from the top, the triangles all appear to be the same size, but when viewed in 3D, they are stretched to create a surprising and visually stunning effect.
• This hexagonal structure is applied to different functions within the Tip-Top series, including the Center Bowl. The raised center of the bowl is hexagonal in shape and surrounded by a wavy rim, creating a sculptural and functional design that is perfect for serving fruit, candy, or other small treats.
Product Dimensions
Length - 28cm
Diameter - 24cm
Height - 7cm
Materials
24K Gold Plated Stainless Steel
Free Shipping on all orders above 100 OMR, for more information, click here
Free Returns within 15 working days.If you experience any issue with your order, please email on customercare@thebubblewrap.com and for more info click here.