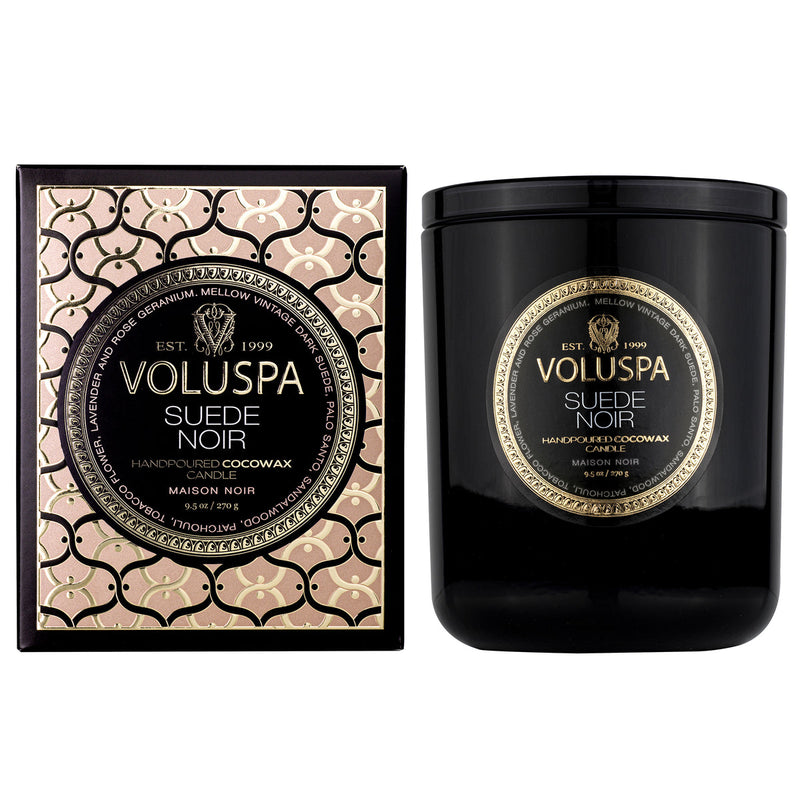 Voluspa
Suede Noir Classic Candle
-The candle creates a profusion of fleeting scents, including vintage dark suede, burning Palo Santo, traces of patchouli, trails of smoky hemp & tobacco, and a softly rising vanilla moon.

-Perfect for setting the mood for a romantic evening, enhancing relaxation, or simply enjoying the captivating aroma.

-Thoughtfully originated in the US.

Product Description
• Indulge your senses in the captivating allure of the Suede Noir Classic Candle. Its enchanting aroma envelops you in a luxurious journey of intricate and velvety sensuality. With every delicate flicker, this candle casts an immersive ambiance, weaving together the essence of bygone eras with a modern twist. The essence of vintage dark suede mingles with the mesmerizing aroma of burning Palo Santo, creating an alluring blend that captures the imagination.
• Hints of patchouli add depth and richness, while trails of smoky hemp and tobacco transport you to a mysterious realm. As the candle glows, the soft vanilla moon rises, casting a gentle and soothing presence. Experience the alluring embrace of Suede Noir, an olfactory masterpiece that transforms any space into a sanctuary of refined indulgence.
Product Dimensions
Volume : 9.5 oz
Volume : 9.5 oz
Care Instructions & Materials
Trim wicks to 1/4" with each burn.
Place candle on a heat resistant surface or candle tray.
Allow wax to melt to the candle's edge every burn to prevent tunneling.
Keep candles away from drafts to ensure a smokeless, clean burn.
Use a wick snuffer to extinguish a candle without soot or smoke.
Discontinue burning a candle when less than 1/4" of wax remains.
Notes of Palo Santo, Patchouli & Tobacco Flower.Proprietary coconut wax blend + 100% natural wicks
Hand-poured in the U.S.A.
Not tested on animals
Phthalates, parabens & sulfate-free

Free Shipping on all orders above 100 OMR, for more information, click here
Free Returns within 15 working days.If you experience any issue with your order, please email on customercare@thebubblewrap.com and for more info click here.