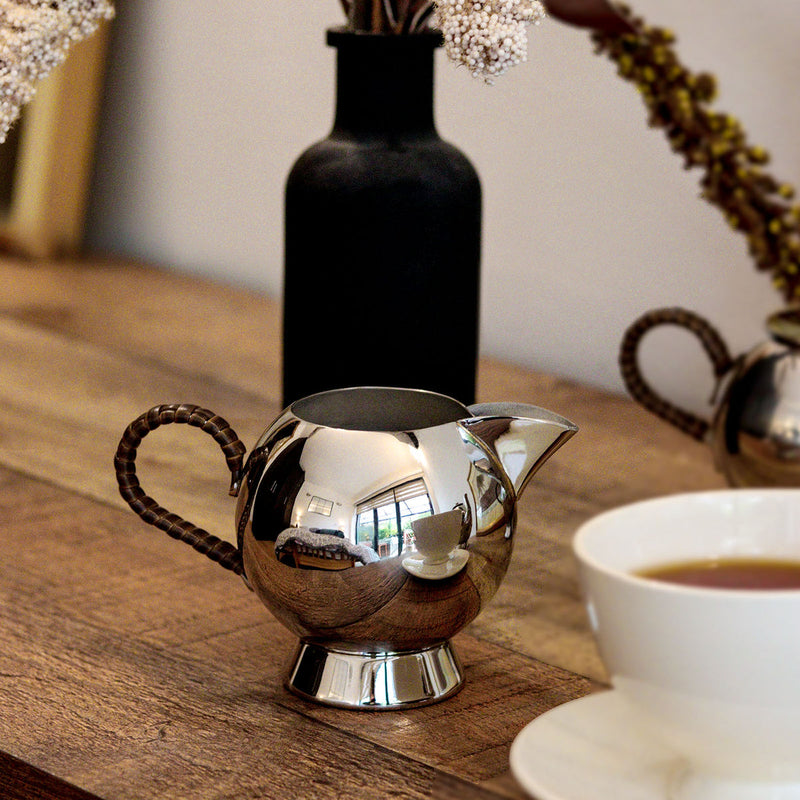 Nick Munro
Spheres Cream Jug Wicker Handle
-Exclusively designed stainless steel cream jug with a wicker handle
-Perfectly complements the Spheres Tea Infusers
-Thoughtfully originated in the UK. 

Product Description
• Introducing the Spheres Cream Jug with a charming Wicker Handle. This exquisitely crafted cream jug is meticulously designed using high-quality stainless steel, ensuring its durability and elegance. Created exclusively to harmonize with the Spheres Tea Infusers, it flawlessly complements your afternoon tea experience. The cream jug's balanced and practical design guarantees a smooth and precise pouring every time, effortlessly enhancing your tea ritual.
• Its sophisticated style and attention to detail make it an indispensable addition to any tea enthusiast's collection. Indulge in the perfect combination of functionality and aesthetic appeal with the Spheres Cream Jug—elevating your afternoon tea to new heights of refinement.
Product Dimensions
Volume : 0.25l
Weight : 0.168kg
Diameter : 8cm
Height : 7.5cm
Care Instructions & Materials
• Our stainless steel products are dishwasher safe but ideally should be cleaned with warm soapy water and polished with a microfibre cloth for best results.
• 18/8 Stainless steel
Free Shipping on all orders above 100 OMR, for more information, click here
Free Returns within 15 working days.If you experience any issue with your order, please email on customercare@thebubblewrap.com and for more info click here.