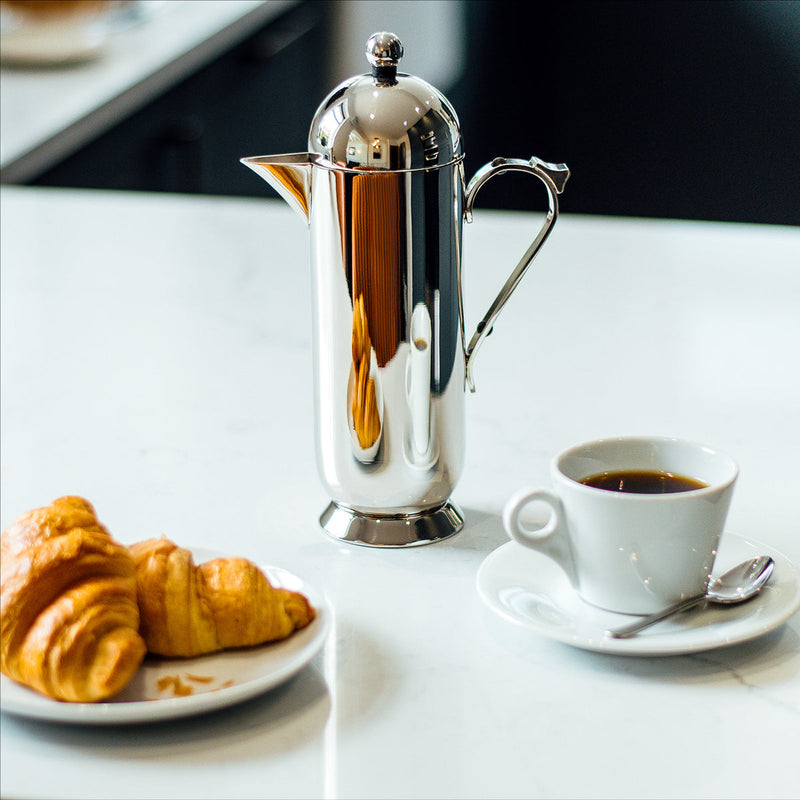 Nick Munro
Small Coffee Pot
-Luxurious stainless steel cafetiere designed by Nick Munro
-Meticulously crafted for the perfect pot of coffee every time
-Thoughtfully originated in the UK. 

Product Description
• Introducing the Small Coffee Pot, a luxurious stainless steel cafetiere that embodies both elegance and functionality, meticulously designed by the renowned Nick Munro. This exquisite French press boasts a striking contemporary style, making it a unique and exclusive addition to your coffee ritual. Crafted with utmost precision, it is engineered to deliver the perfect pot of coffee every time, ensuring an unparalleled taste and aroma.
• Whether you're savoring a moment of tranquility alone or sharing the experience with cherished friends, this exceptional coffee pot transforms any occasion into a delightful sensory journey. With a generous capacity, it effortlessly brews 2 to 3 mugs of coffee, allowing you to indulge in the rich flavors and smooth texture that this remarkable cafetiere effortlessly extracts. Elevate your coffee experience with the Small Coffee Pot and relish in the art of coffee-making like never before.
Product Dimensions
Volume : 1l
Weight : 0.460kg
Diameter : 9cm
Height : 29cm
Care Instructions & Materials
• Our stainless steel products are dishwasher safe but ideally should be cleaned with warm soapy water and polished with a microfibre cloth for best results.
• 18/8 Stainless steel
Free Shipping on all orders above 100 OMR, for more information, click here
Free Returns within 15 working days.If you experience any issue with your order, please email on customercare@thebubblewrap.com and for more info click here.