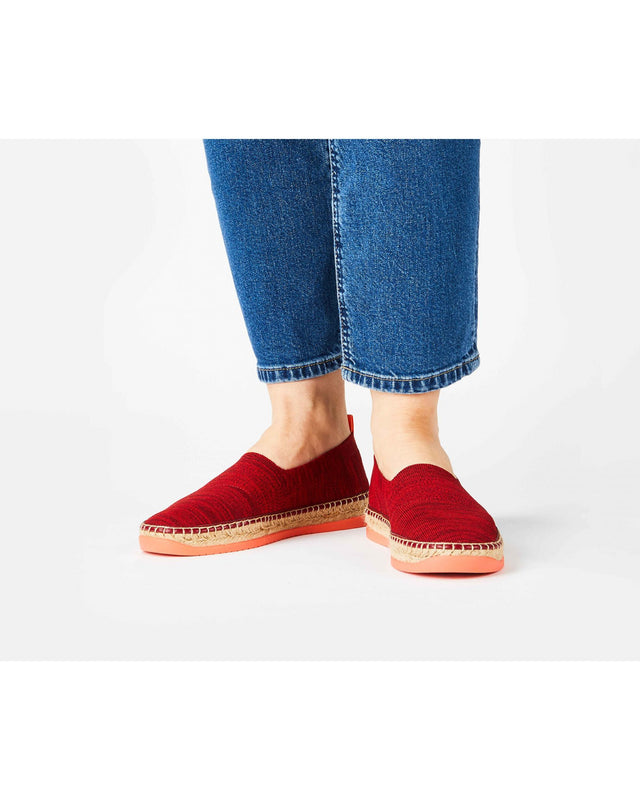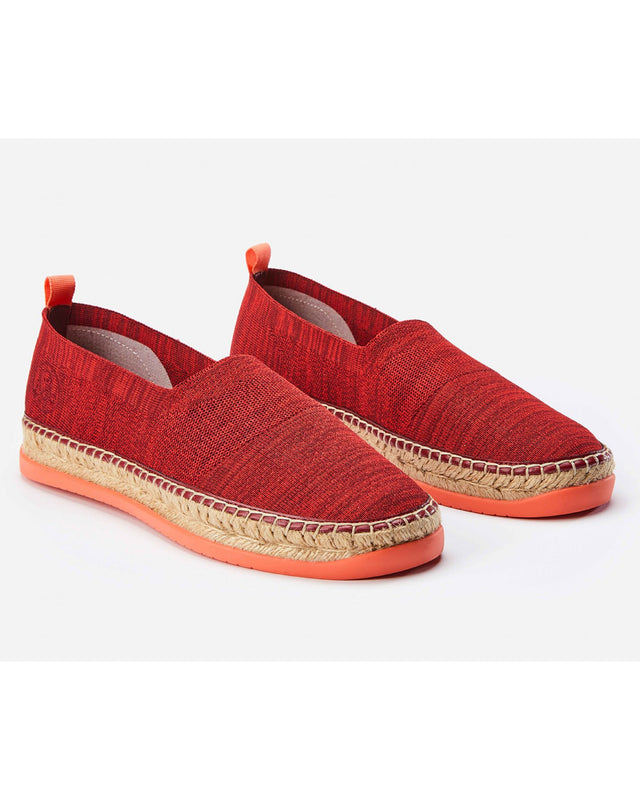 Seads
Seads 003 Sunset Red
Discover Seads 003 Sunset Red Espadrilles - where style meets comfort. Elevate your look today!
Product Dimensions
Weight (Pair) : 1.076 kg
Height (1 Shoe) : 10 cm
Width (1 Shoe) : 11 cm
Care Instructions
How Do I Clean the Knit Uppers?
Start by gently brushing the upper textile to remove all surface dust and dirt, and if your espadrilles are muddy, wait for it to dry before brushing it off. When you've finished brushing, use a damp cloth to clean away any excess grime. If there are any remaining stains, remove them with a soft toothbrush and some warm water. Whenever you're cleaning the uppers, try to avoid getting them too wet. When you're finished, let the shoes thoroughly air-dry. If the soles are dirty as well, follow the extra steps listed below.

For extra care, you can also spray the uppers with a textile protector sold in shoe stores – it will prevent further stains and make your espadrilles more water-resistant.

How Do I Clean PU Leather?
PU leather is a non-porous material, and most stains will sit on the surface. Please stay away from harsh detergents as they will dry out the leather and may cause it to crack. Also, avoid scrubbing the surface with abrasive cloths or sponges – they will damage the PU leather and won't remove the mark. Instead, simply take a soft cloth and clean the material using a gentle circular motion. If you want some extra cleaning power, add a little dishwashing liquid to warm water and clean with a soft cloth, making sure to wring out it out as you go to avoid getting the leather too wet. When you're finished, pad-dry the PU leather with a soft dry towel.

How Do I Clean the Jute Soles?
Wait for any mud or dirt to dry before you begin; if you start scrubbing while it's still wet, the dirt will sink deeper into the material. First, take a dry cotton cloth and use it to remove any loose surface dirt. Then, take a small bowl, add a tablespoon of dishwashing liquid, two cups of water, and stir. Dip a soft toothbrush into the mixture and gently scrub the jute soles while removing any mud from the cracks. Try to avoid scrubbing too hard as this may fray the jute rope. Finally, take a cotton cloth, dampen it with lukewarm water, and wipe away any remaining grime or soap residue.

How Do I Clean the Rubber Soles?
Clean excess dirt off the soles using a damp cloth, and then soak the soles in a mixture of dishwashing liquid and warm water for 10 minutes. Make sure not to soak the jute midsole, so dip your shoes in just a thin layer of water! After 10 minutes, use a soft toothbrush to remove any remaining stains from the soles, and for maximal effect, dip the toothbrush in the dishwashing mixture. Once your shoes are looking good as new, dry them off with a soft dry cloth or towel.
Materials
"Seads are made with upcycled marine plastic and packaging waste. Colorful shoes with a summer vibe, designed to never become waste again. * UNISEX SNEAKER ESPADRILLES * KNITWEAR UPPER: SEAQUAL® YARN, a high-quality recycled polyester yarn containing 10% Upcycled Marine Plastic and 90% recycled post-consumer plastic. * PULL STRAP: recycled PET * MIDSOLE: 100% biodegradable natural jute * OUTSOLE: 100% natural rubber in our trademark color 'Living Coral' * INSOCK: recycled water-based PU Leather * REINFORCEMENT: recycled PET microfiber velvet. * EDGE BINDING: recycled water-based PU Leather * BREATHABILITY: our sneaker-style knitwear uppers are light and airy, which is perfect for hot and humid summer days. The naturally porous jute soles also keep your feet cool. * PFC Free * Vegan"
Free Shipping on all orders above 100 OMR, for more information, click here
Free Returns within 15 working days.If you experience any issue with your order, please email on customercare@thebubblewrap.com and for more info click here.