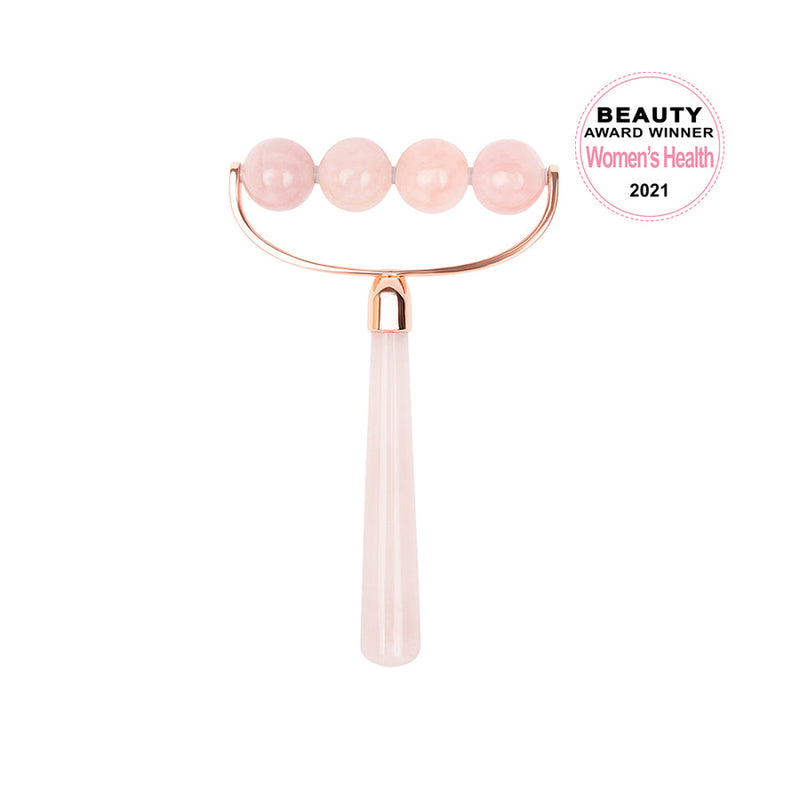 Jenny Patinkin
Rose On Rose Body Roller
- 

Indulge in self-care luxury with the Rose On Rose Body Roller. Crafted with love and infused with the beauty of rose quartz, this body roller gently massages, relieves tension, and promotes a sense of well-being.

-Thoughtfully originated in the US.
Product Description
• Face the facts: Rolling isn't just for the face! Done all over the body, rolling can aid with the relaxation of tight or strained muscles, help reduce inflammation/fluid retention in the skin tissue, improve circulation to give the skin a radiant glow and reduce overall stress.
• Dry or dewy: Body rolling can be done over clean, dry skin or on top of an oil, serum or moisturizer, as you prefer.
• Play it cool: Rose Quartz will air chill, but this roller may be refrigerated should you wish to have a colder massage experience.
• Keep it clean: Wipe the roller head with rubbing alcohol after each use and store in a clean, dry place.
• Feel the vibes: Rose Quartz is said to emit energetic vibrations of love, self-love, self-worth, kindness and compassion. Let them roll over you.
Directions of use
• For lymphatic drainage (one to four times per week): Starting with the upper half of the body, apply light to medium pressure just under the collar bone and then roll in a short stroke upwards to just over the collar bone. On the arms, move in long strokes upwards from the elbows, aiming for the armpits. Roll over each area three to four times.
• For the lower half of the body, start by pressing into the groin area on each side of the body and slightly wiggle the roller from side to side. On the legs, roll from the feet up to the knees and then the knees up to the groin. On the backs of the legs, roll upwards from the knees over the backs of the thighs and then around the hips to the groin.
• For muscle release (as frequently as desired): Using a combination of long and short firm strokes on the affected areas, gently move the roller in a back and forth motion, intermittently holding it in place while adding additional pressure with a slight wiggling motion. Repeat on each area as desired, as frequently as desired.
Free Shipping on all orders above 100 OMR, for more information, click here
Free Returns within 15 working days.If you experience any issue with your order, please email on customercare@thebubblewrap.com and for more info click here.