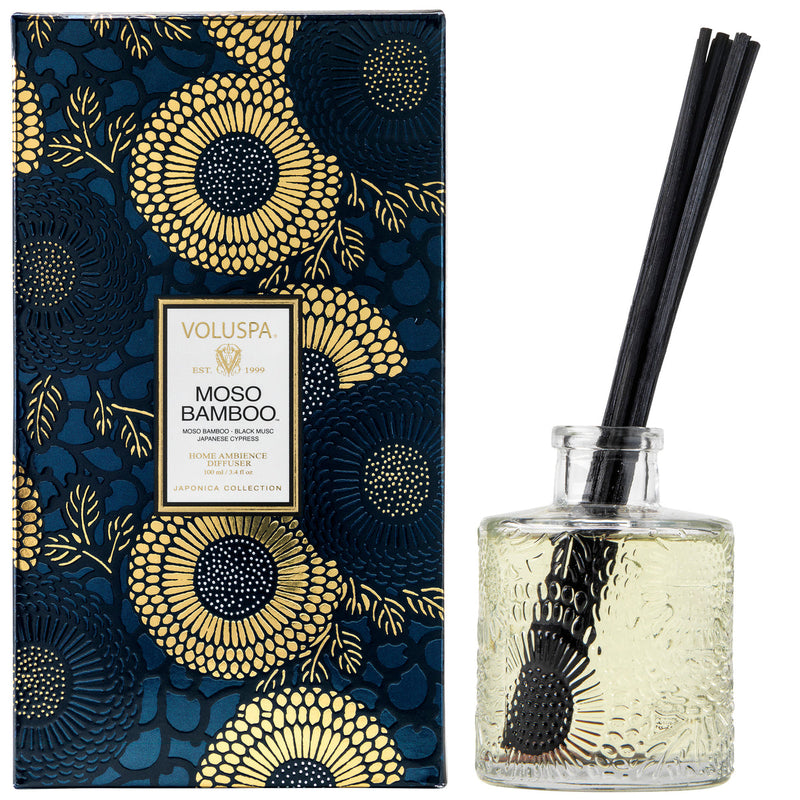 Voluspa
Moso Bamboo Reed Diffuser
-Tranquil ambiance of a Japanese garden.Refreshing notes of Moso Bamboo, Black Musk, and Japanese Cypress.

-10 fine-gauged rattan reeds for optimized fragrance diffusion.Flip reeds every other week for prolonged fragrance life.

-Thoughtfully originated in the US.

Product Description
• Experience the tranquil ambiance of a serene Japanese garden with the Moso Bamboo Reed Diffuser. Infused with the refreshing notes of Moso Bamboo, Black Musk, and Japanese Cypress, this custom-crafted diffuser effortlessly fills your space with an enticing fragrance that is both invigorating and soothing. Delight your senses with the subtle yet captivating aroma that the Moso Bamboo Reed Diffuser emanates. The blend of Moso Bamboo, known for its fresh and green scent, along with the rich and alluring Black Musk and the woody essence of Japanese Cypress, creates a harmonious olfactory symphony that envelops your home or office.
• The Moso Bamboo Reed Diffuser features 10 fine-gauged rattan reeds, carefully chosen to optimize fragrance diffusion. These reeds absorb the scented oil and release it into the air, ensuring a consistent and long-lasting fragrance experience. To maximize the lifespan and intensity of the scent, simply flip the reeds every other week, allowing for a renewed burst of fragrance.
Product Dimensions
Volume : 100 ml
Length : 7.6 cm
Width : 5.1 cm
Care Instructions & Materials
Remove the stopper and insert reeds.
Always place the diffuser on an oil-resistant surface.
Gently flip reeds weekly to increase fragrance distribution.
For optimal fragrance, allow reeds to absorb fragrance oil for 24 to 48 hours before flipping.
Recyclable glass

coconut wax blend and 100% natural wicks.
Free Shipping on all orders above 100 OMR, for more information, click here
Free Returns within 15 working days.If you experience any issue with your order, please email on customercare@thebubblewrap.com and for more info click here.