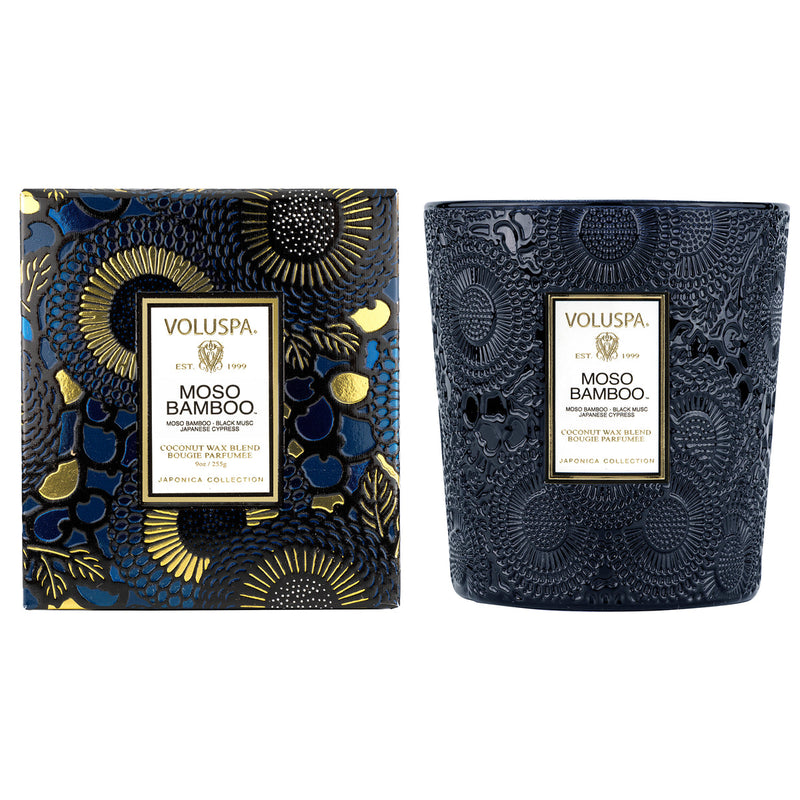 Voluspa
Moso Bamboo Classic Candle
-Immerse yourself in the captivating scent that evokes a woodland trail, where huckleberry vines and Japanese cypress trees intertwine.

-Crafted with care, this candle offers a sanctuary of tranquility, allowing you to unwind and reconnect with nature.

-Thoughtfully originated in the US.

Product Description
• The Moso Bamboo Classic Candle invites you to embark on a sensory journey through a tranquil woodland trail, where the flickering flame illuminates your path, creating an enchanting ambiance. Immerse yourself in the essence of the great outdoors as the captivating scent fills the air. Hints of huckleberry vines meander through the forest, intertwining with the majestic branches of Japanese cypress trees. Experience the lushness of nature as you venture deeper into the woodland. Green thickets thrive in the fertile, dark, and musky soil, creating a vibrant tapestry of colors and textures.
• Enveloping you in a refreshing embrace, the fragrance of fresh bamboo saplings permeates the surroundings. The gentle whispers of tall reeds swaying in the breeze blend harmoniously with the verdant greenery, creating a symphony of scents. Crafted with care, the Moso Bamboo Classic Candle captures the essence of a serene forest retreat. Its warm glow and captivating aroma offer a sanctuary of tranquility, allowing you to unwind and reconnect with nature from the comfort of your own space.
Product Dimensions
Volume : 255 ml
Length : 9.7 cm
Width : 9.5 cm
Care Instructions & Materials
Trim wicks to 1/4" with each burn.
Place candle on a heat resistant surface or candle tray.
Allow wax to melt to the candle's edge every burn to prevent tunneling.
Keep candles away from drafts to ensure a smokeless, clean burn.
Use a wick snuffer to extinguish a candle without soot or smoke.
Discontinue burning a candle when less than 1/4" of wax remains.
coconut wax blend and 100% natural wicks.
Free Shipping on all orders above 100 OMR, for more information, click here
Free Returns within 15 working days.If you experience any issue with your order, please email on customercare@thebubblewrap.com and for more info click here.