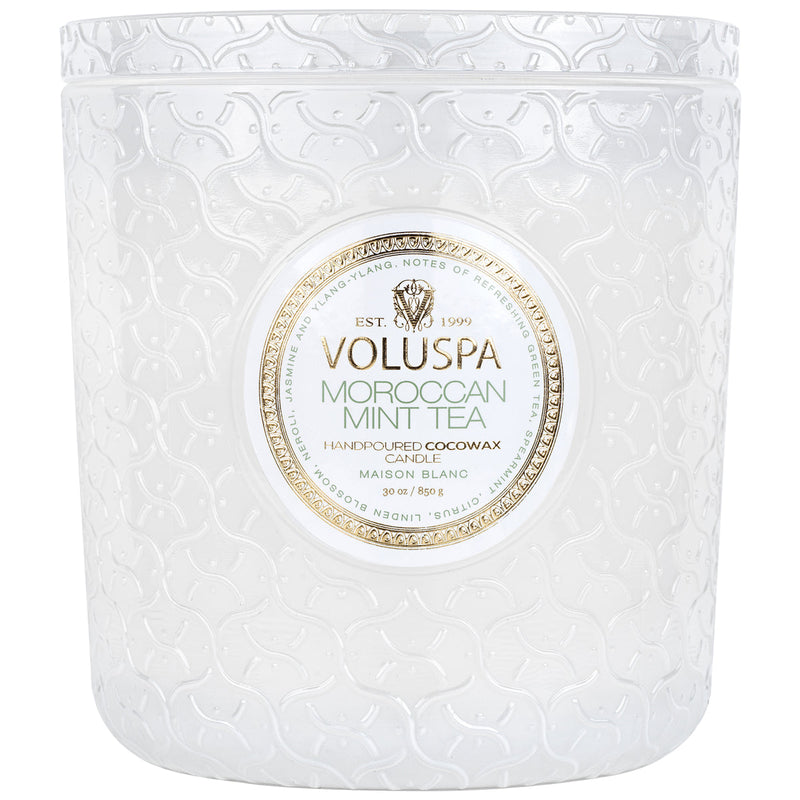 Voluspa
Moroccan Mint Luxe Candle
The Moroccan Mint Luxe Candle is handcrafted using premium ingredients, ensuring a clean and long-lasting burn. The refreshing aroma of mint fills the air, creating a soothing atmosphere. Order now.
Product Description
• Delve deeper into the heart of this aromatic masterpiece and discover an intriguing floral bouquet. The exquisite combination of linden blossom, neroli, jasmine, and ylang-ylang adds a touch of elegance and sophistication to the refreshing minty notes, creating a harmonious balance between invigorating and soothing.
• Handcrafted with the utmost care, the Moroccan Mint Luxe Candle is made from high-quality ingredients to ensure a long-lasting and clean burn. The luxurious fragrance gently fills the air, creating a serene atmosphere that transports you to a Moroccan tea ceremony, where time slows down and worries melt away.
Product Dimensions
Volume : 30 oz
Diameter : 12.9 cm
Height : 13.7 cm
Care Instructions & Materials
Trim wicks to 1/4" with each burn.
Place candle on a heat resistant surface or candle tray.
Allow wax to melt to the candle's edge every burn to prevent tunneling.
Keep candles away from drafts to ensure a smokeless, clean burn.
Use a wick snuffer to extinguish a candle without soot or smoke.
Discontinue burning a candle when less than 1/4" of wax remains.
Notes of Green Tea, Spearmint & Lemon Rind.Proprietary coconut wax blend + 100% natural wicks
Hand-poured in the U.S.A.
Not tested on animals
Phthalates, parabens & sulfate-free
Free Shipping on all orders above 100 OMR, for more information, click here
Free Returns within 15 working days.If you experience any issue with your order, please email on customercare@thebubblewrap.com and for more info click here.