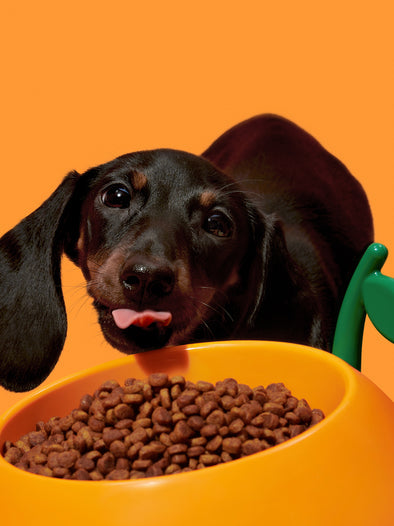 Vetreska
Juicy Tangerine Pet Bowl, Spoon & Mat Set
Feast in Juicy Delight! Elevate mealtime for your pet with the Juicy Tangerine Pet Bowl, Spoon & Mat Set. From the vibrant bowl to the convenient spoon and non-slip mat, every detail is designed to make dining a refreshing and enjoyable experience.
Product Description
•Zest up mealtime with our juicy succulent Tangerine Pet Bowl Set! This set is designed to enhance your pet's dining experience, ensuring they enjoy every meal to the fullest.
•The set includes a non-slip splash mat that keeps the bowl in place, preventing any spills or movement during mealtime. Say goodbye to messy feeding areas and hello to convenient and tidy dining.
•Our unique leafy spoon adds a touch of style and functionality to the set. It's thoughtfully designed to make serving your pet's meals easy and enjoyable. With this set, you can eat good and look better while doing it!
Product Dimensions
BOWL
• Length:8.5in
• Width:8.5in
• Height: 5.5in
MAT
• Length13.2in
• Width:12.2in
• Height: 0.8in
Facts For Felines
•TANGERINE DESIGN: This zesty and vibrant tangerine design adds that splash of excitement and fun to mealtime that your pet is sure to enjoy.


•ERGONOMIC & SAFE: The shallow, wide, and tilted structure of the bowl helps with ease of eating (avoiding sore bumps), discomfort (in their neck and spine), and digestion for your pet. A mess free solution to mealtime.
•NON-SLIP SPLASH MAT: The high-quality food grade silicon mat ensures stability for your pet while they eat and keeps your floor clean.
•PREMIUM MATERIALS: Our pet bowl meets Food-grade Safety Standards and is free of BPA.We use nothing but the highest quality materials to ensure your pets safety.
•MULTIPURPOSE: These bowls can hold water, wet or dry food, and can be used for cats and dogs alike.
Free Shipping on all orders above 100 OMR, for more information, click here
Free Returns within 15 working days.If you experience any issue with your order, please email on customercare@thebubblewrap.com and for more info click here.