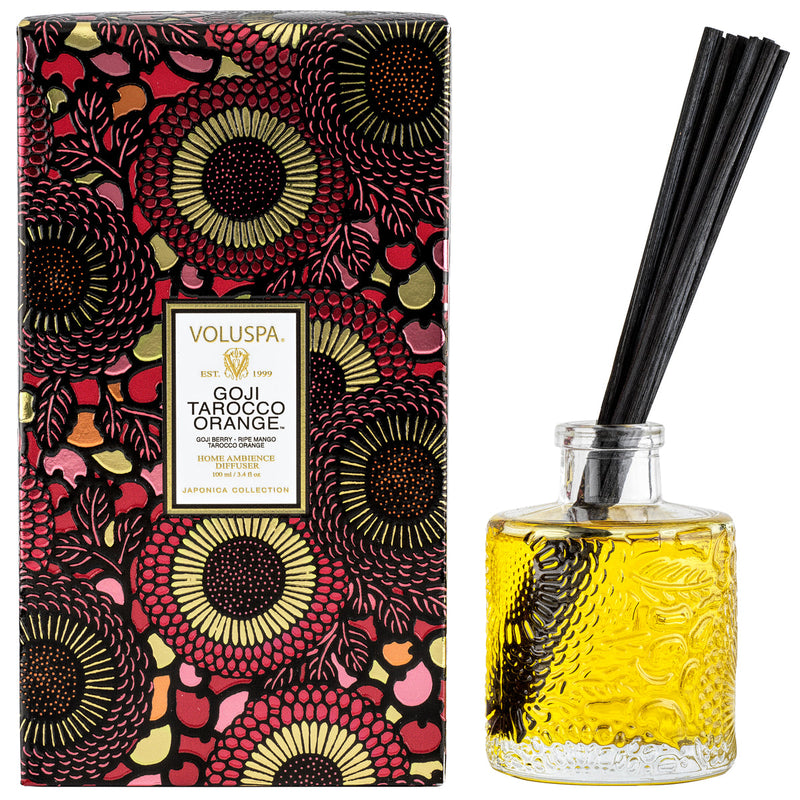 Voluspa
Goji Tarocco Orange Reed Diffuser
-Captivating blend of goji berries and Tarocco orange for a powerful yet balanced aroma.

-Flip reeds every other week to extend the diffuser's lifespan and invigorate the scent.

-Thoughtfully originated in the US.

Product Description
• Introducing the Goji Tarocco Orange Reed Diffuser, a truly captivating home fragrance experience. With its enchanting blend of exotic scents, this custom diffuser infuses your living space with a powerful yet balanced aroma that is never overwhelming. Designed to provide long-lasting fragrance, this reed diffuser comes with 10 fine-gauged rattan reeds that efficiently disperse the scent throughout your room.
• The slender reeds effortlessly absorb the fragrant oils, releasing a continuous and enticing aroma that will instantly uplift your senses. Enhancing the longevity of your diffuser is easy. Simply flip the reeds every other week to invigorate the fragrance and extend its lifespan. This simple maintenance ritual allows you to enjoy the captivating scent of Goji Tarocco Orange for an extended period, making it an economical and worthwhile investment for your home.
Product Dimensions
Volume : 100 ml
Length : 7.6 cm
Width : 5.1 cm
Care Instructions & Materials
Remove the stopper and insert reeds.
Always place the diffuser on an oil-resistant surface.
Gently flip reeds weekly to increase fragrance distribution.
For optimal fragrance, allow reeds to absorb fragrance oil for 24 to 48 hours before flipping.
Recyclable glass

Glass Jar , Notes of Goji Berry, Ripe Mango & Tarocco Orange.
Free Shipping on all orders above 100 OMR, for more information, click here
Free Returns within 15 working days.If you experience any issue with your order, please email on customercare@thebubblewrap.com and for more info click here.