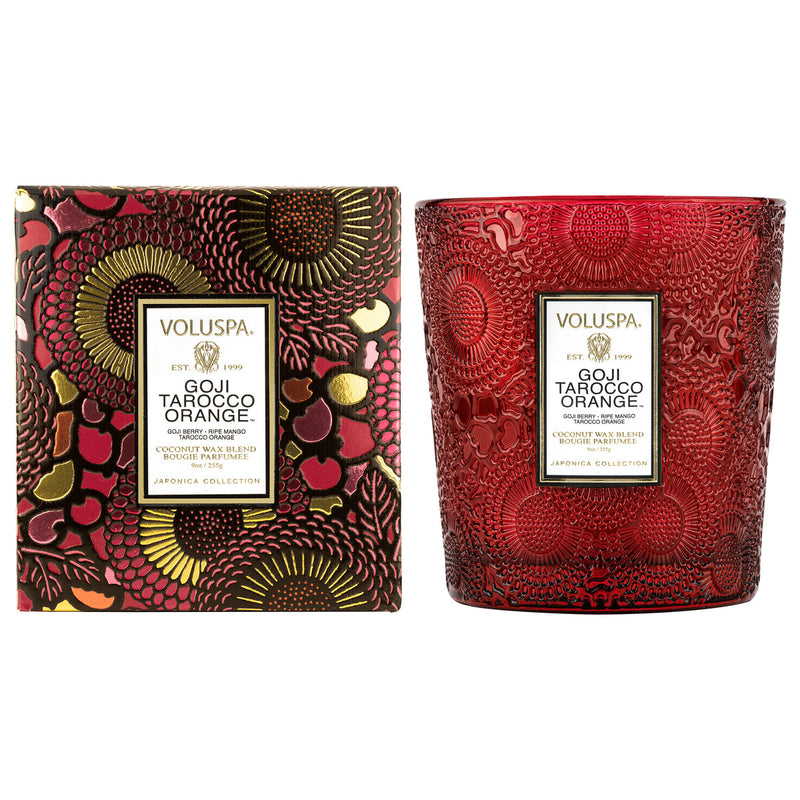 Voluspa
Goji Tarocco Orange Classic Candle
Featuring our Goji Tarocco Orange Classic Candle, which mixes the tart flavour of Tarocco oranges with the sweet scent of Goji berries. Experience its appealing and energizing scent.
Product Description
• Whether you're seeking a moment of tranquility after a long day or looking to infuse your living space with an energizing fragrance, the Goji Tarocco Orange Classic Candle is the perfect choice. Let the intoxicating blend of mango, goji berries, blood orange, tangerine, and pomelo nectar awaken your senses and create an atmosphere of pure bliss.
• Indulge in the captivating aroma of this exquisite candle and let its vibrant and invigorating scent transport you to a world of sensory delight. Elevate your mood, embrace the essence of citrus, and enjoy the aromatic journey that this Goji Tarocco Orange Classic Candle has to offer.
Product Dimensions
Volume : 255 ml
Length : 9.7 cm
Width : 9.5 cm
Care Instructions & Materials
Trim wicks to 1/4" with each burn.
Place candle on a heat resistant surface or candle tray.
Allow wax to melt to the candle's edge every burn to prevent tunneling.
Keep candles away from drafts to ensure a smokeless, clean burn.
Use a wick snuffer to extinguish a candle without soot or smoke.
Discontinue burning a candle when less than 1/4" of wax remains.
Glass Jar , Notes of Goji Berry, Ripe Mango & Tarocco Orange.
Free Shipping on all orders above 100 OMR, for more information, click here
Free Returns within 15 working days.If you experience any issue with your order, please email on customercare@thebubblewrap.com and for more info click here.