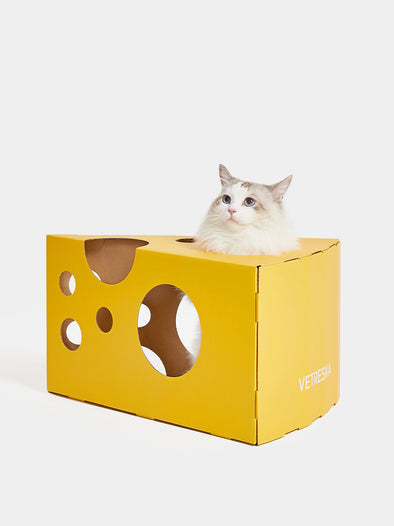 Vetreska
Cheese Cat Scratching Box
Indulge your feline's love for cheese with our Cheese Cat Scratching Box! This adorable and interactive scratcher provides hours of entertainment and keeps those claws in purr-fect shape. Give your kitty a cheesy delight while protecting your furniture. It's the ultimate treat for your whiskered friend!
Product Description
• Irresistible cheese-inspired design: Vetreska's Cheese Scratching Box captures the hearts of cats worldwide with its adorable and enticing slice of cheese shape, making it a delightful addition to any feline's playtime repertoire.
• Interactive and versatile: This scratching box is more than just a cozy hideout. It features a scratching mat to satisfy your cat's natural urge to scratch, providing a healthy outlet for their claws. With plenty of holes and hideouts, it encourages exploration, pouncing, and endless hours of entertainment.
• Durable and eco-friendly construction: Crafted from eco-friendly corrugated cardboard and natural corn starch glue, this scratching box stands up to the energetic attacks of your feline companion. Its sturdy design ensures longevity, while the use of sustainable materials promotes environmental consciousness.
Product Dimensions
• Length:20.9in
• Width:15.7in
• Height:11.6in
Facts For Felines
•CARDBOARD CAT SCRATCHER:Our cat scratching box will keep your cats away from the furniture and carpets, and instead provide them with a delightful slice of fun to play with.

•MULTIFUNCTIONAL USE:This slice of joy can be used for playing, hiding, and resting. Whatever your cats desire, this scratching box can provide it and more!

•UNIQUE CHEESE DESIGN:The cute cheesy appearance adds a wonderful dash of flavour to any fun-loving home. This scratching box is just as much for you as it is for your cat!

•ECO-FRIENDLY MATERIALS:This scratching box is made from high-quality recyclable paper and card, as well as natural corn starch glue making it eco-friendly and harmless to use. If that wasn't enough, it is strong, sturdy, and durable – built to last!

•BREATHABLE & SAFE:We always strive to provide a safe and secure environment for your furry friends. This box includes enough holes to provide an open breathable space, while satisfying the cats nature of providing a cave like resting space.

•EASY TO ASSEMBLEE:This toy is extremely easy to assemble with all the parts included, just a couple of folds here and there and voila! Your cat will secretly thank you.
Free Shipping on all orders above 100 OMR, for more information, click here
Free Returns within 15 working days.If you experience any issue with your order, please email on customercare@thebubblewrap.com and for more info click here.