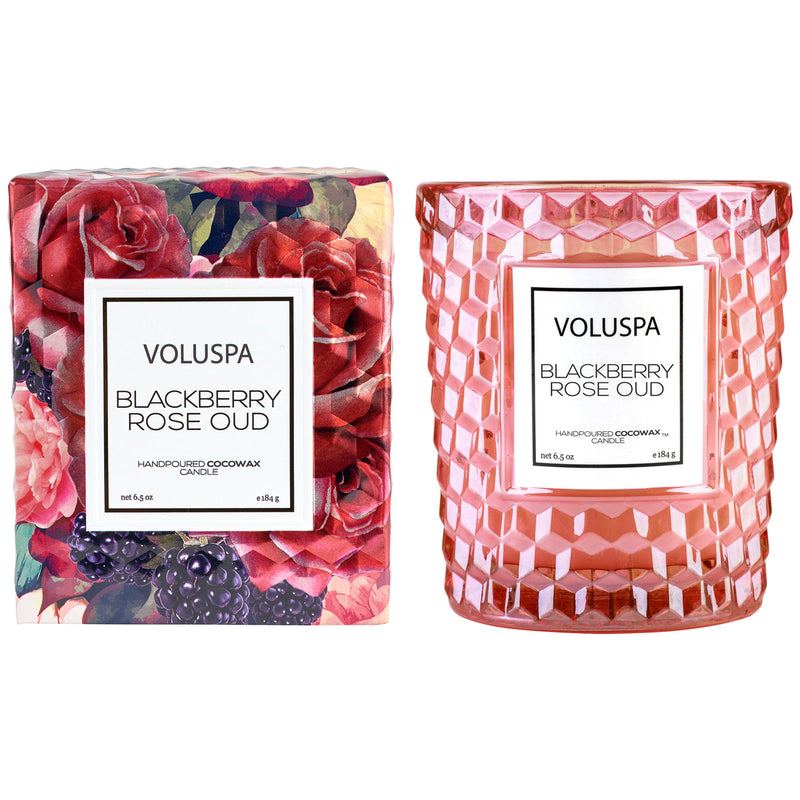 Voluspa
Blackberry Rose Oud Classic Candle
Learn about what makes our Blackberry Rose Oud Classic Candle attractive. Allow the classy and beautiful fragrance of oud, rose, and blackberry influence your surroundings.
Product Description
• The Blackberry Rose Oud Classic Candle invites you into a world of sophistication and charm, where a captivating blend of sweet and mysterious scents awaits. Delve into the enchanting embrace of this playful floral fragrance, where the warm and luscious sweetness of ripe blackberries dances harmoniously with the romantic allure of delicate rose notes. As you light the candle, the air becomes infused with a symphony of aromas that perfectly balance the velvety and captivating woody essence of Oud, adding an intriguing depth to the overall experience.
• Indulge your senses in the exquisite combination of fruity and floral accords, creating an ambiance that is both alluring and comforting. The Blackberry Rose Oud Classic Candle is a sensory masterpiece, designed to elevate any space with its elegant and mysterious fragrance.
Product Dimensions
Volume : 6.5 oz
Diameter : 7.62 cm
Height : 8.89 cm
Care Instructions & Materials
Trim wicks to 1/4" with each burn.
Place candle on a heat resistant surface or candle tray.
Allow wax to melt to the candle's edge every burn to prevent tunneling.
Keep candles away from drafts to ensure a smokeless, clean burn.
Use a wick snuffer to extinguish a candle without soot or smoke.
Discontinue burning a candle when less than 1/4" of wax remains.
Proprietary coconut wax blend + 100% natural wicks
Hand-poured in the U.S.A.
Free Shipping on all orders above 100 OMR, for more information, click here
Free Returns within 15 working days.If you experience any issue with your order, please email on customercare@thebubblewrap.com and for more info click here.