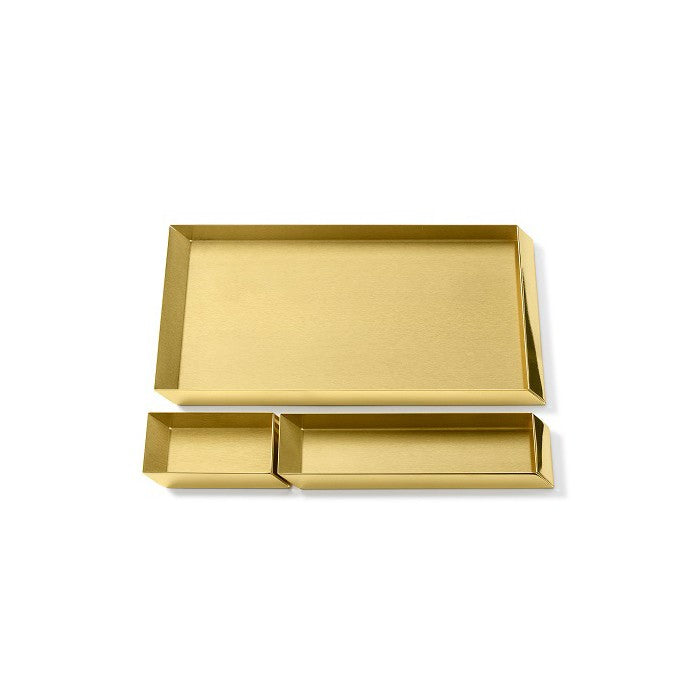 Ghidini 1961
Axonometry (A4 and Pen and Cards Tray Set)
- The Axonometry Trays Set features a unique design inspired by isometric projection, adding an artistic touch to its functionality.
- This set includes an A4 tray and a pen/cards tray, catering to different organizational needs. Its versatility makes it suitable for use in both professional and home workspaces, enhancing productivity and style.

- Thoughtfully originated in Italy.
Product Description
• The Axonometry A4 tray and pen and cards tray set is a family of small trays that features a unique and striking design based on axonometric isometric projection. The trays are designed to create a three-dimensional optical effect through the use of inclined edges and contrasting metal finishes. The trays are constructed from high-quality materials and feature a durable and long-lasting finish.
• The metal finishes on the trays provide a contrasting effect that enhances the three-dimensional optical illusion created by the design. The set includes an A4 tray that is ideal for holding papers, documents, or other small items, as well as a pen and cards tray that is perfect for holding pens, pencils, business cards, and other small accessories. The trays are designed to be highly functional while also adding a touch of style and sophistication to any workspace.
Product Dimensions
Length - 35.4cm
Diameter - 23cm
Height - 2cm
Materials
Brass, Copper
Free Shipping on all orders above 100 OMR, for more information, click here
Free Returns within 15 working days.If you experience any issue with your order, please email on customercare@thebubblewrap.com and for more info click here.