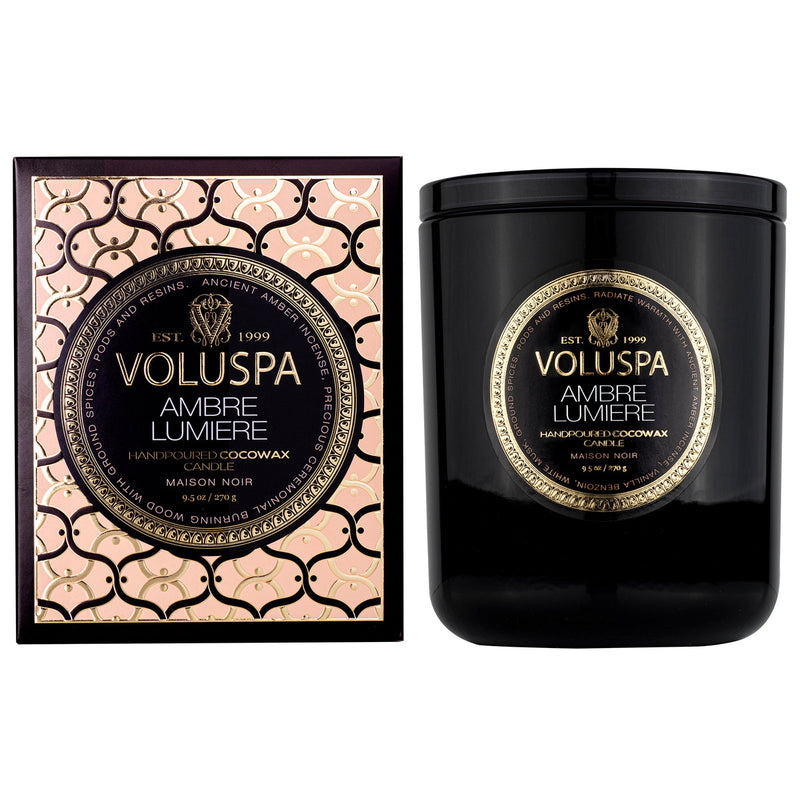 Voluspa
Ambre Lumiere Classic Candle
-Mystical and meditative blend based on ancient amber incense, precious ceremonial burning wood, ground spices, pods, and resins.

-Perfect for relaxation, meditation, or enhancing the atmosphere during gatherings.

-Thoughtfully originated in the US.

Product Description
• Crafted with utmost care and attention to detail, Ambre Lumiere combines the essence of precious ceremonial burning wood, infusing your space with a warm and comforting ambiance that embraces you and your guests.
• The exquisite combination of ground spices, meticulously selected pods, and resins adds an intriguing depth to the fragrance, creating a sensory experience that arouses the senses and enlivens your space with a subtle yet captivating allure.
Product Dimensions
Volume : 9.5 oz
Care Instructions & Materials
Trim wicks to 1/4" with each burn.
Place candle on a heat resistant surface or candle tray.
Allow wax to melt to the candle's edge every burn to prevent tunneling.
Keep candles away from drafts to ensure a smokeless, clean burn.
Use a wick snuffer to extinguish a candle without soot or smoke.
Discontinue burning a candle when less than 1/4" of wax remains.
Proprietary coconut wax blend + 100% natural wicks
Hand-poured in the U.S.A.
Not tested on animals Phthalates, parabens & sulfate-free
Free Shipping on all orders above 100 OMR, for more information, click here
Free Returns within 15 working days.If you experience any issue with your order, please email on customercare@thebubblewrap.com and for more info click here.