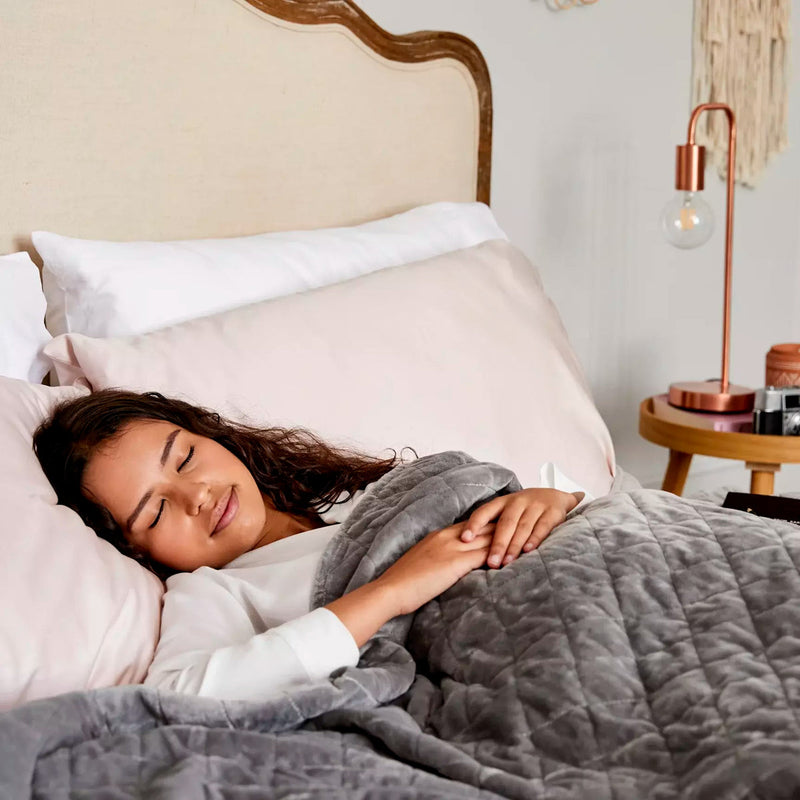 Aeyla
All in One Weighted Blanket - Standard
Discover the Aeyla All in One Weighted Blanket for ultimate comfort and relaxation. Sleep better tonight – shop now!
Product Description
The Mela Weighted Blanket will give you the comfort and peace of mind you need to fall asleep and stay asleep until your alarm rings! It was designed to help you melt away stress and welcome calmness so that you wake up feeling rested and ready to face the day. Its anti-rustle glass quartz pellets create a gentle pressure and mould to your body shape, providing support that relaxes your muscles and settles your mind so you can sleep soundly all night long.
Product Dimensions
Standard - 100x190cm
Care Instructions & Materials
• Wash at a maximum of 30°C

• Wash on a cold gentle cycle

• Do not iron

• Do not tumble dry

• Lay flat to dry


*FLAT DRY:
To dry your blanket, place it flat on top of a few large towels to soak up any excess water. This will prevent the blanket from losing its shape.

*HANG DRY:
You can hang-dry your blanket, but doing so may decrease the lifespan of your blanket.
* DO NOT TUMBLE DRY.
This product is not suitable for dry cleaning or for being used in a clothes dryer as it damages the blanket and reduces its lifespan

The Inner Blanket
- Weighted with SGS certified, anti-rustle weighted glass pellets, so it moulds to your shape.
- The 100% cotton shell is ultra breathable, allowing for cooling airflow to maintain a just-right temperature.


The Removable Cover
- A super soft fleecy cover made from recycled polyester.
- All of Aeyla's products are Oeko-Tex certified, to ensure they are free from any harmful chemicals or toxins.


Free Shipping on all orders above 100 OMR, for more information, click here
Free Returns within 15 working days.If you experience any issue with your order, please email on customercare@thebubblewrap.com and for more info click here.