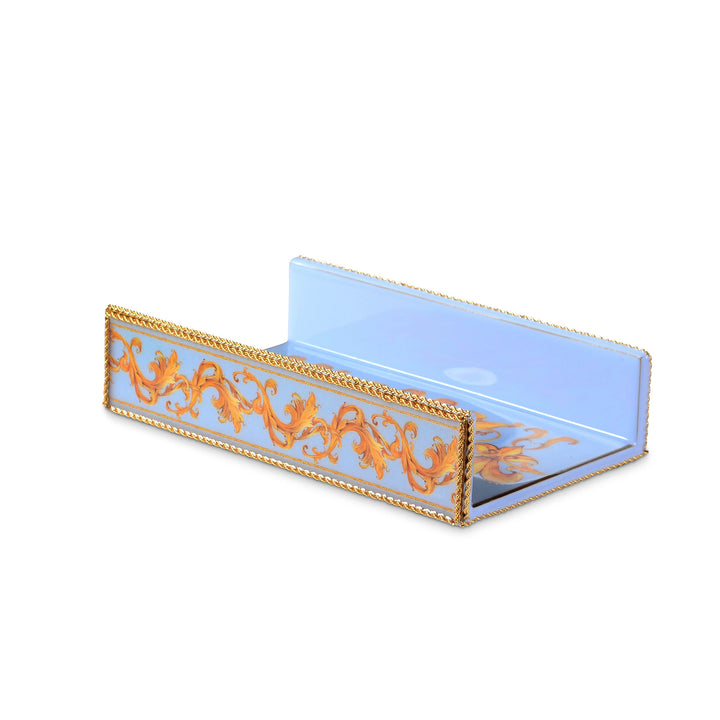 Mike + Ally
Trevi Flat Towel Holder
-Hand-enameled in Blue Ice with a clear epoxy finish for a captivating look.
-Each item is meticulously crafted and exudes opulence and sophistication.
-Thoughtfully originated in the US. 
Product Description
• Introducing the exquisite Trevi Collection, a marvel of Italian-inspired fashion design. These captivating pieces showcase a harmonious blend of opulence and sophistication, crafted with meticulous attention to detail. Each item in the collection boasts intricate baroque filigree detailing, reminiscent of the finest Italian artistry. The iconic lion's head motif, a symbol of strength and grandeur, graces these extraordinary pieces, elevating their allure to new heights.
• Hand-enameled in the captivating shade of Blue Ice and adorned with a lustrous clear epoxy finish, these treasures emanate an ethereal radiance. The gold French twist accents add a touch of elegance, completing the ensemble with a flourish. Immerse yourself in the world of timeless beauty and indulge in the splendor of the Trevi Collection, where every piece is an extraordinary work of art.
Product Dimensions
Weight : 0.6 kg
Length : 20.3 cm
Width : 12.7 cm
Height : 5.08 cm
Care Instructions
avoid exposure to direct sunlight and water. Clean using a soft damp cloth. Never use alcohol or solvents to clean.
Free Shipping on all orders above 100 OMR, for more information, click here
Free Returns within 15 working days.If you experience any issue with your order, please email on customercare@thebubblewrap.com and for more info click here.