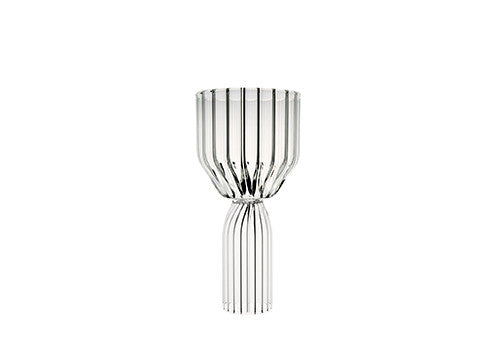 fferrone
Margot Dessert Goblet - Set of 2 Clear
-Margot Dessert Goblet is a versatile glassware.
-It is ideal for dessert wine, water, and juice.
-Thoughtfully originated in Italy.

.
Product Description
• The Margot Dessert Goblet is a beautifully crafted glassware that is perfect for serving dessert wine, as well as refreshing beverages such as water and juice. This piece is meticulously made by hand, without the use of molds, by master glassblowers who take great care in creating each individual goblet.
• The goblet is characterized by its elegant and graceful shape, with a slightly curved bowl that tapers towards the stem and base. The stem is also gently curved, making it easy to hold and enhancing the overall aesthetic of the piece. The base of the goblet is solid and stable, ensuring that it sits securely on any flat surface.
Product Dimensions
Diameter - 8cm
Height - 16.5cm
Care Instructions & Materials
• Oven, microwave, and dishwasher safe for everyday use.
• Borosilicate Glass
Free Shipping on all orders above 100 OMR, for more information, click here
Free Returns within 15 working days.If you experience any issue with your order, please email on customercare@thebubblewrap.com and for more info click here.