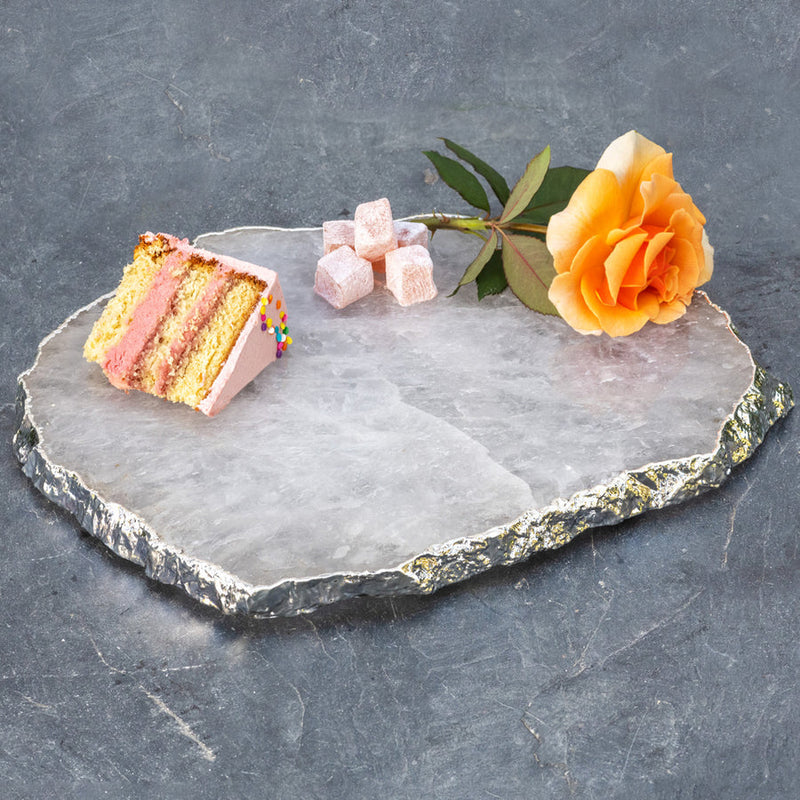 Anna New York
Kiva Large Platter
- Kiva Gemstone platters: Nature's handcrafted works of art.
- Made from natural gemstones, each platter features an organic shape that beautifully enhances culinary creations, creating an elegant and harmonious presentation.

- Thoughtfully originated in the US.
Product Description
• The Kiva Gemstone platters are handcrafted works of art, created by Mother Nature herself. They are made from natural gemstones, carefully selected for their exquisite beauty and unique patterns. Each platter features an organic shape that is reminiscent of the gemstone it is crafted from. The gemstone platters are designed to showcase culinary creations in an elegant and harmonious way, without overpowering the food.
• The frames of the platters are carefully crafted to enhance the natural beauty of the gemstone, with minimalistic and sophisticated designs that allow the gemstone to take center stage. The organic shapes, the exquisite gemstones, and the thoughtfully designed frames all come together to create a statement piece that elevates your culinary creations and adds a touch of natural elegance to your dining experience.
Product Dimensions
Length - 18cm
Width - 25cm
Height - 2cm
Length - 23cm
Width - 33cm
Height - 2cm
Care Instructions & Materials
• Pure Silver-Plated Gemstones, Crystal, Rose Quartz, Sodalite.
• 24k Gold-Plated Gemstones, Crystal, Rose Quartz, Pure Emerald.
• Hand wash with mild soap and damp soft cloth. Polish with silver polishing cream as necessary.
Free Shipping on all orders above 100 OMR, for more information, click here
Free Returns within 15 working days.If you experience any issue with your order, please email on customercare@thebubblewrap.com and for more info click here.