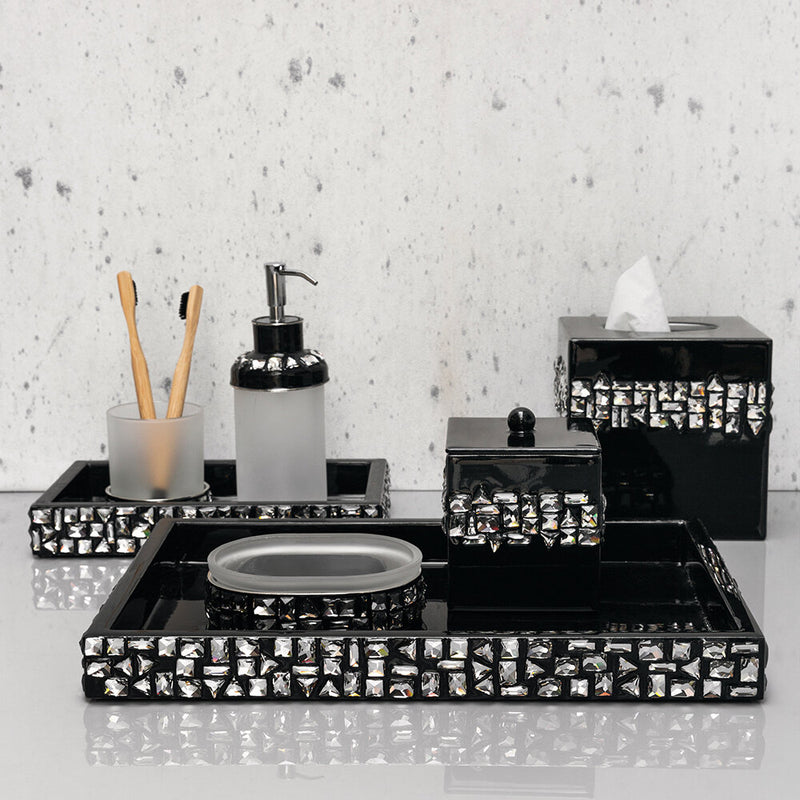 Mike + Ally
Budapest Q-Tip Jar
-It features the latest Swarovski® 'Cosmic' crystals for a dazzling and elegant display.
-The collection captures the trend of geometric aesthetics.
-Thoughtfully originated in the US.
Product Description
• Introducing the breathtaking Budapest Collection by Mike + Ally, a true testament to architectural magnificence and the epitome of Hapsburg grandeur. Inspired by the mesmerizing beauty of Budapest and its majestic Danube River, this collection brilliantly captures the essence of opulence and elegance. Each exquisite piece in the collection showcases the seamless fusion of the latest Swarovski® 'Cosmic' family of crystals, creating a dazzling spectacle that radiates an unparalleled brilliance.
• The intricate interplay of squares, rectangles, and triangles within the designs reflects the current trend towards captivating geometric patterns. Immerse yourself in the luxurious allure of the Budapest Collection, where every meticulously crafted accessory is a masterpiece that brings the splendor of Budapest's architectural wonders into your own abode.
Product Dimensions
Weight : 0.6 kg
Width : 9.52 cm
Height : 13.97 cm
Care Instructions
avoid exposure to direct sunlight and water. Clean using a soft damp cloth. Never use alcohol or solvents to clean.
Free Shipping on all orders above 100 OMR, for more information, click here
Free Returns within 15 working days.If you experience any issue with your order, please email on customercare@thebubblewrap.com and for more info click here.